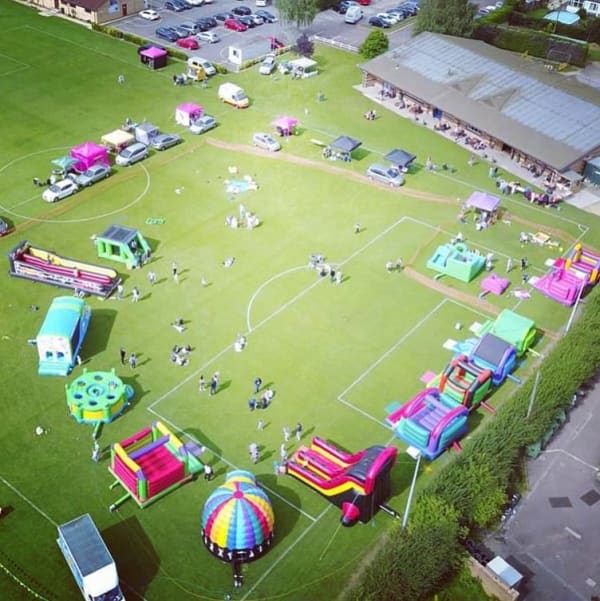 CK9 Fundraiser - 26th April 2020
We are at the CIVIL SERVICE SPORTS ASSOCIATION GL51 9SL on April 26th 2020

Free Access to the Public from
12pm - 7pm
However, you might want to purchase one of our wristbands!
This wristband gives you FULL ACCESS to the CK Castles PLAY ZONES!
- Toddler Play Zone
- Child Disco Slide Castle
- Toddler Play Pen
- 18 Piece Soft Play Set
- Minion Ball Pit
- Unicorn Ball Pit
- Unicorn \Soft Play
- Small Bouncy Castles, Princess & Football Themes

Big Kids Section
- Child Sumo Suits
- 1 Large Bouncy Castle
- 2/3 Child Bouncy Castles, Maybe More!

Adult & Child Play Zone
- Rush vertical drop slide
- Fun Run
- Adult Disco Dome
- 1 Adult Bouncy Castles
- Bungee Run
- Football Shoot Out
- Nerf Shoot Out
- Golf Shoot Out
- Adult Sumo Suits
(We may have to rotate the use of these units depending on electricity supply)
You can purchase wristbands at the event. However, the online discount will not apply.
Only want a few goes on certain attractions? not to worry, we will also be selling tokens!
1 token = for a slide, a bungee run or 3 minutes on a bouncy castle
3 tokens = £5.00
7 Tokens - £10
11 tokens £15
15 Tokens =£20
20 tokens =£25
What else will be at the Event?
- A BAR!
- DISCO! by Shaun Smith Discos
- Gloucester Football Zorb
-Face Painting & Princess Visits by Everlasting Entertainment
- Guide Dogs for the Blind
- Boss Dog Grooming
- Pop Corn, Candy Floss & Slushy's with Dazzle Dust Productions
- MR Whippy Ice Cream Van
- Burgers, Chips, Hot Dogs, Pork & Stuffing rolls from R&J Catering
- Freshly Made Sugar Donuts
- Thai Food Stand
- Cake Stall
- Kraft Jewellery
- Henna Tattoo & Kraft by Sim
- Sand Art with Foley Gifts
- Cross Stitching & Crochet
- Martial Arts Stand
- DiZzY sHoE dEsIgNeS
- ROMAN Barbers
- Acrylic Nails with PURE NAILS
- Builders information Stand with Sure Scaffold, R&M Construction, Complete Landscaping & W&L Builders Services Ltd
- Sweet Tweets
- Bow Rage
-Some Amazing Kraft's from Barney's Cancer Journey
- Body Shop
- Avon
- Nicky's Bath Bomb Boutique
- Electric Warmers - Wax Buddies with Scentsy
- Isla's Walking Dream
- Katkinz Rescue - Cat Rescue Fundraising
- Gloucestershire Wildlife Trust
- Win a Mini with the Utility Warehouse Company
- 'Wood 'n' Things Glitter - Balloons & Party Supplies
- Allsorts by Mel - Knit & Sewed Teddies Tutus, Hair Accessories
We will Keep updating this as we get more attendants Confirm.
**Pending Confirmation**
- Fire Engine Display
- Paramedic/Ambulance Display
- Cheltenham Animal Shelter

TOMBOLA & RAFFLE PRIZES
- Free £1,500 Dog Boarding School Programme with CK9 School
- Free Groom Worth £30 with Boss Dog Grooming
- £50 Food Voucher for The Merry Fellow Inn
- A Meal for 2 @ The Daffodil
- A Fade & Shave @ ROMAN Barbers
- Men's Hair Products from ROMAN Barbers
- cut / blow-dry raffle voucher @ Twins Hairdressers
- 1 Month FREE Training @ MSD Karate & Kickboxing
- An Item of Clothing from Pop Clothing UK
- A Voucher for POP Clothing UK
- The Double Tree by Hilton
- Archery Kit
- 50% OFF a Child's Disco With Shaun Smith Discos
- Free Hot Tub Weekend Hire worth £145 from CK Castles
- Free Bouncy Castle Hire Worth up to £65 from CK Castles
- Free Large Inflatable Hire worth up to £175 from CK Castles

What is CK9 School?
Carl's Canine School is also a non profit charitable organisation, CK9 Rehoming Centre.
Our aim is to take in abandoned, or problematic dogs with a number of issues, correct their behaviour and get them ready to be re-homed to even the most inexperienced of owners. As long as you and your home are suitable for that dog then we should be able to make dreams come true.
These dogs are rescued and taken care of by us all as a family throughout their time with us, they are trained up to a Kennel Club - Good Citizen level of bronze, silver or gold standard by Carl.
Carl is the dog trainer of the household, he currently has four diplomas in dog training & psychology along with a real passion for animals and achieving goals.
We really do our best to transform the most difficult and damaged of dogs into a lovable household pet. The dogs we choose to take into our rehabilitation centre are the type of dogs that might not have stood a chance if handed into an animal shelter. Be it down to their breed, or their behavioural issues, we try not to take on the dogs who could easily be re-homed through your average animal shelter. We want to offer something more, and we pride ourselves in our success in doing so!

WE HAVE BOOKED THE EVENT DATE AS A HOLIDAY IN ORDER TO ENSURE WE HAVE ALL OF OUR EQUIPMENT AVAILABLE FOR YOU
PLEASE PAY IN FULL WHEN BOOKING ONLINE, YOU WILL THEN RECEIVE YOUR WRISTBANDS IN THE POST ASAP
Venue Address: Civil Service Sports Association, GL51 9SL