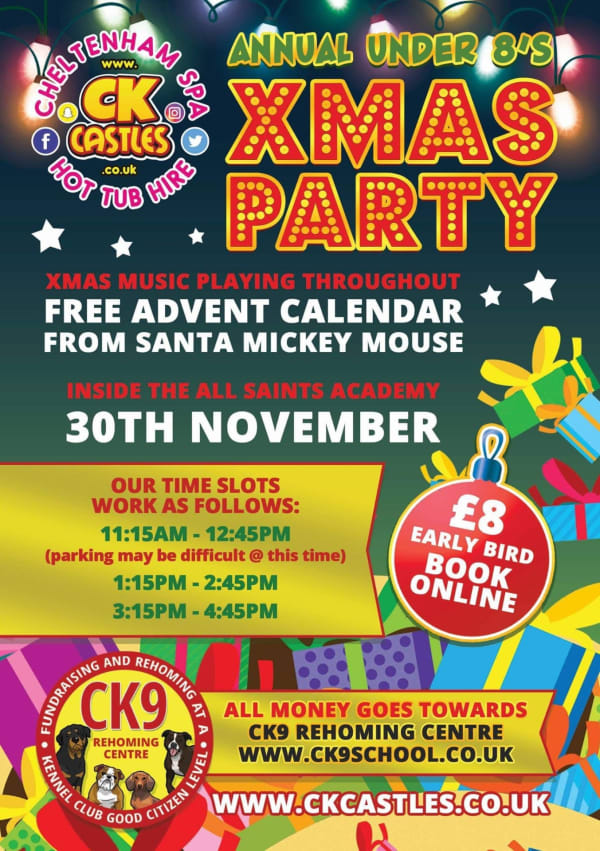 Xmas Indoor Event - Saturday 30th November - CK9 Fundraiser
UNDER 8'S XMAS PARTY
We are inside the All Saints Academy on 30th November (map) for our under 8's Christmas Party.
There will be Xmas music playing throughout the hall and lots of fun equipment to play on. What a great start to December.

Our time slots work as follows
11:15am - 12:45pm
1:15pm - 2:45pm
3:15pm - 4:45pm
This ticket gives users FULL ACCESS to the CK Castles PLAY ZONE, a PHOTO SHOOT & a GIFT from SANTA MICKEY MOUSE.
Under 8's Play Zone
Child Disco Slide Castle
Toddler Play Pen
Princess Castle
Unicorn Ball Pit
Unicorn \Soft Play
Small under 8's Bouncy Castles & Football Theme
Nerf Shoot Out
Child Sumo Suits
DIDI CARS
Adult Sumo Suits
What is the CK9 Rehoming Scheme?
Carl's Canine School is also a non profit charitable organisation, CK9 Rehoming Centre.
Our aim is to take in abandoned, or problematic dogs with a number of issues, correct their behaviour and get them ready to be re-homed to even the most inexperienced of owners. As long as you and your home are suitable for that dog then we should be able to make dreams come true.
These dogs are rescued and taken care of by us all as a family throughout their time with us, they are trained up to a Kennel Club - Good Citizen level of bronze, silver or gold standard by Carl.
Carl is the dog trainer of the household, he currently has four diplomas in dog training & psychology along with a real passion for animals and achieving goals.
We really do our best to transform the most difficult and damaged of dogs into a lovable household pet. The dogs we choose to take into our rehabilitation centre are the type of dogs that might not have stood a chance if handed into an animal shelter. Be it down to their breed, or their behavioural issues, we try not to take on the dogs who could easily be re-homed through your average animal shelter. We want to offer something more, and we pride ourselves in our success in doing so!
PLEASE BOOK USING ANY DATE EXCEPT 30th NOVEMBER!

WE HAVE BOOKED THE EVENT DATE AS A HOLIDAY IN ORDER TO ENSURE WE HAVE ALL OF OUR EQUIPMENT AVAILABLE FOR YOU.
PLEASE PAY IN FULL WHEN BOOKING ONLINE, YOU WILL THEN RECEIVE CONFIRMATION VIA EMAIL. WE WILL NEED THIS DISPLAYED UPON ENTRY.
Venue Address: Cheltenham Leisure Centre