Meet Dave!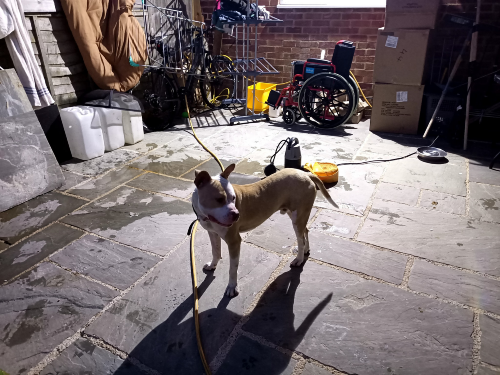 Dave was rescued from an aggressive bully by concerned (and very brave) residents. He was left chained in the garden regularly and is currently recovering from some nasty sun burn, along with a fractured leg and numerous other injuries (We won't know the full details until he goes to our vet).

He doesn't respond to his name or any commands as of yet. Keep tuned and follow Dave's progress.
You can donate to Dave via
PayPal: ck9school@outlook.com
Bank transfer: CARL SAXON GERRARD, MONZO BANK, 04-00-04, 54718026
What do you need ready in order to house one of our dogs?
A loving home
A collar
A lead
A flexi cord lead
Food & water bowls
Bedding
A cage (All of our dogs come crate trained, this gives them their own bedroom or "safe spot").
Can't provide a home but would like to help our cause?

Join the CK9 LOYALTY CLUB:
https://www.ck9school.co.uk/pages/ck9-loyalty-club.php

Overall donations can be made via this link: https://www.ck9school.co.uk/shop/products/one-off-payment-donation.php

Or would you like to sponsor this specific dog? This buys extra special treats, toys, medical supplies (if applicable) and extensive advertising to find the perfect home:
https://www.ck9school.co.uk/shop/products/sponsor-a-dog.php
Click here to View Dave's Facebook Photo Album
Looking to Adopt Dave? / Contact Us Today >>