Loose Lead Training
Does your dog continuously pull on the lead?
Walking your dog should not be a struggle!
One of our success stories...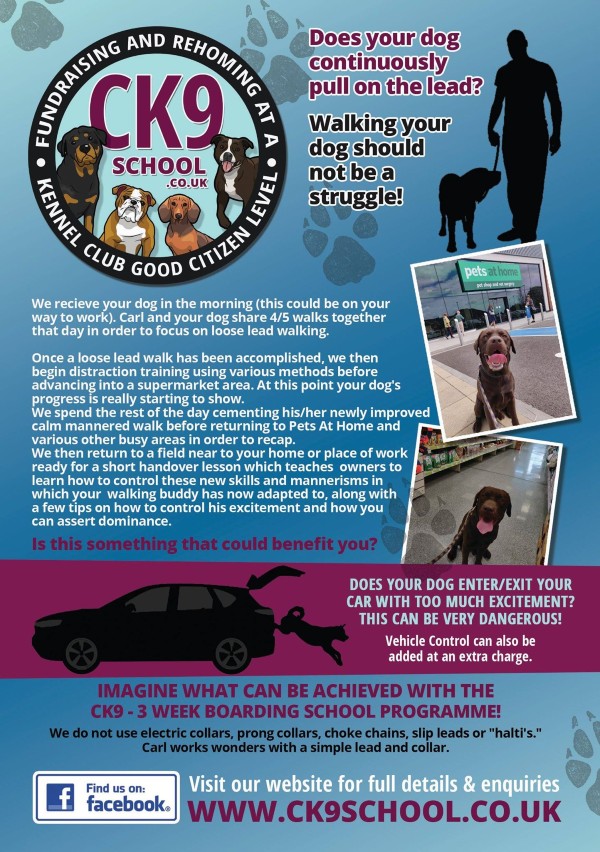 Carl picked Bruno up before his owner started work at 9am. We shared 4/5 walks together that day in order to focus on loose lead walking. Once a loose lead walk was accomplished, we began distraction training using various methods before advancing into a supermarket area. What better distraction for a dog than Pets At Home?
The video below shows that Bruno was able to achieve a loose lead walk inside Pets At Home within just a few hours of spending time with me. Mission accomplished! At this point the progress is really starting to show.

We spent the rest of the day cementing Bruno's calm mannered walk before returning to Pets At Home and various other busy areas. I then returned to a field near his owners work ready for her to finish at 5pm.
A short handover lesson was given, along with a few tips on how to control his excitement and how to assert dominance as pack leader.
The final part of the video was taken by Bruno's owner the next day. If you compare it to the first section of the video then you can really see how much this one day CK9 School's takeover has made a difference.
Your dog will receive 5/6 short walks throughout the day with a lot of rest in between in order to keep their energy levels high.
This one day course is great and often solves all walking issues on the lead. However, this is not always a one time fix, it can take extra work and can depend on the breed along with numerous other factors at play.
Is this something that could benefit you?
Get in touch @ www.ck9school.co.uk
All of this in just 8 hours!
IMAGINE WHAT CAN BE ACHIEVED WITH THE CK9 - WEEK BOARDING SCHOOL PROGRAMME!
We do not use electric collars, prong collars, choke chains, slip leads or "halti's." Carl works wonders with a simple lead and collar.
£95 or £130 with vehicle control added!
Reviews
"Carl at CK9 helped me and my dog Bruno, with loose lead walking by providing a one day intensive training course. I have an excitable chocolate lab called Bruno, who struggled to walk calmly on the lead constantly pulling and tugging, which made our daily walks a complete nightmare. it got to the point where I just couldn't face walk time with Bruno as it always ended in stress and frustration. He pulled so much that I ended up with blisters on my hands and after I had an operation on my other hand, I decided enough was enough. I asked Carl for help, who gave Bruno his one day training. Bruno got to spend the day with Carl for his intensive schooling and he picked him up and dropped him off afterwards. Carl also spent some time with me to teach me how I should be walking Bruno. This gave me the knowledge and confidence to continue his loose lead training afterwards. Thank you, Carl! If you are looking for someone to teach you and your dog to loose lead walk then Carl is your man! after spending the day with Carl, make sure you continue with the training and implement what you've learned as well. you and your dog will be well on the way to a pleasurable stroll in the park; no more pulling and tugging!"
- Naomi